Richard Sanger : Biography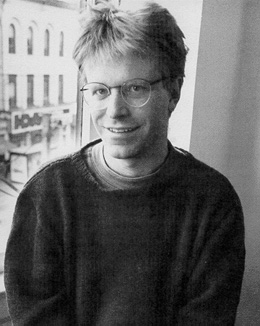 Photo credit: Roberto Ariganello
Richard Sanger was born in Manchester, England, in 1960, to two journalists (one Canadian, one English). He grew up in Kenya, Connecticut, Toronto and—mainly—Ottawa. After 10 years spent teaching English and studying in Europe, he moved back to Toronto in 1987; he currently lives there with his wife (the actress Deborah Lambie), and their son.
His poems have appeared in publications in Canada, Britain and the United States, including the Times Literary Supplement, South-West Review, Poetry Review, Quarry, Descant, Queen's Quarterly, The Globe and Mail and The Signal Anthology of Contemporary Canadian Poetry. He has won the E. J. Pratt Poetry Prize twice (in 1992 and 1993). In 1994, a chapbook of his poems was published by Tapir Press; in 1996, Vehicule Press published his first full-length collection, Shadow Cabinet, nominated that year for the Gerald Lampert Award.
Poems
His play Not Spain was shortlisted for a 1995 Chalmers Award and has been published by Playwrights Canada Press in 1998. A new play, Two Words for Snow, will premiere at the 1999 PlayRites Festival in Calgary. His other plays include Wild Grapes and Unrequited Pine and have been performed at various fringe festivals.
His reviews and essays have appeared in the Times Literary Supplement, the The Globe and Mail>, Books-in-Canada, The Canadian Forum and Poetry Review (U.K.) as well as various scholarly journals. He holds an M.A. in Spanish and a doctorate in Comparative Literature and has taught in the English Department and the School of Continuing Studies at the University of Toronto; he has also worked as a translator (from Spanish, French and German) and an editor.
In 1998-1999, he is the Writer-in-Residence at the University of New Brunswick in Fredericton.
Richard Sanger's works copyright © to the author.