Patrick Friesen : Biography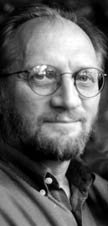 Patrick Friesen, born in Steinbach, Manitoba, and resident of Winnipeg for 30 years, he lives in Vancouver today, teaching creative writing at Kwantlen University College.
He is a poet and playwright who also writes song lyrics, text for improv piano and for modern dance.
Poems
Friesen has been short-listed for the Governor General's Award for Poetry (1997), the Dorothy Livesay British Columbia Book of the Year (1998), and he won the Manitoba Book of the Year Award (1994). His most recent book of poems, with Harbour Publishing (2002), is the breath you take from the lord.
Patrick Friesen's works copyright © to the author.