Maureen Scott Harris : Poems
Hunger
Maureen Scott Harris
From: Contemporary Verse 2. Second prize winner in their 1996 poetry competition: Crossing Bodies of Water.
I remember: lichen on rock, smell of blueberries mixed
with juniper and pine, salt on my upper lip from the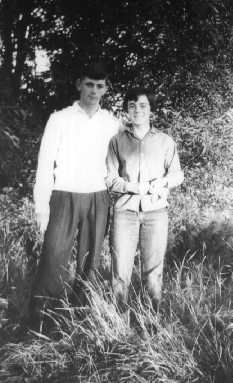 cooking sun, sounds of our feet cracking
twigs, crunch of old leaves and I want you back
Bobby, dead fifteen years in a lake, the plane
you were learning to fly let down by your teacher.
I heard about it on the radio.

You've left me wailing in the bush, abandoned,
my fingers purple as my mouth, afraid of the bears
you teased me with pawing towards me. I'm starving
in spite of the blueberries, and for years now
I've gnawed on the thin bone of a dream

that it was a mistake, the radio report, that it wasn't
you, as it turned out to be you, that I hadn't
heard it in the half-light of not yet
having woken on a Sunday morning when there was no need
to get out of bed, that there was no phone call
later from my sister telling me you were dead,
that I didn't
stumble down the hallway refusing
to believe I was awake to the bathroom where I couldn't
vomit, my stomach already empty.

I want you back Bobby, in spite of your
faithlessness, this shabby contrivance with
coincidence and a minor mishap on
the news. I want to scuff along
the sand of Pigeon Lake behind you,
my feet warm, listening to you tell your friends
about the Americans who buy your minnows
for bait. I want to finish filling my basket with
blueberries while you wait. I want to come into
the crowded low-ceilinged kitchen for breakfast and
eat my fill
of the pickerel you've caught
amazed at what you've done while I was still asleep.



Maureen Scott Harris's works copyright © to the author.