Joe Rosenblatt : Biography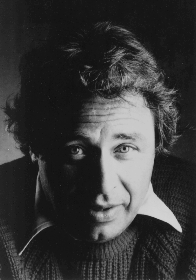 Photo credit: John Reeves, Toronto, Canada
Joe Rosenblatt was born in Toronto in l933. He started writing seriously in the early sixties, and in l966 his first book, The L.S.D. Leacock, was published by Coach House Press. Since then he has published more than a dozen books of poetry and fiction. His selected poems (1962-1975), Top Soil, won the Governor-General's Award for poetry. Another volume of selected poems,(l963-l985), Poetry Hotel, won The B.C. Book Prize, l986 for poetry. His poems have appeared in numerous anthologies and periodicals in North America.
Rosenblatt has held several writer-in- residence positions in Canadian universities and libraries, as well as short term writer in residence positions at the University of Rome and University of Bologna. Between l987 and l993 he toured Europe giving readings and lectures in Italy, Sweden and Finland. An experimental novel Beds And Consenting Dreamers, an allegory on Stalinism was published August 1994 by Oolichan Books ( Lantzville, B.C.) . A bilingual edition of his new sea sonnets, Madre Tentacolare (A Tentacled Mother) has been translated into Italian by Prof. Alfredo Rizzardi of the University of Bologna. A Tentacled Mother in the original and The Rosenblatt Reader (poems and prose, Exile Books, Toronto) is due in the New Year, 1996. In the fall, l996, Beach Holme Press Ltd (Victoria, British Columbia) will be publishing a coffee table of his new coloured drawings plus a selection of the best drawings, chosen by gallery director, Prof. Michael Bell from the Rosenblatt Collection of Carleton University Art Gallery, Ottawa, Ontario.
As well as a writer and artist, Joe Rosenblatt has been writer-in-residence; has taught creative writing; been a literary consultant, and has worked as an editor:
1987 Writer-in-residence, Canadian Studies, University of Rome and University of Bologna (six-week period)
1985-1986 Writer-in-residence Saskatoon Public Library
1982 Saskatchewan Summer School of the Arts, Writers' Workshop
1970-1983 Senior Editor of Jewish Dialogue, Toronto
1980-1982 Associate Editor of the Malahat Review, University of Victoria
1981 Extension Department, Creative Writing, University of Victoria
1980 Visiting Lecturer, University of Victoria
1980 Visiting Lecturer, Summer School, University of Western Ontario
1979-1980 Writer-in-residence, English Department, University of Western Ontario
Literary Consultant: Porcupine's Quill, Blackfish Press, McClelland and Stewart, Canada Council, Oolichan Books
For the past twenty years, Rosenblatt has been living in Qualicum Beach on Vancouver Island with his wife Faye and his three cats.
Joe Rosenblatt's works copyright © to the author.