Jan Horner : Biography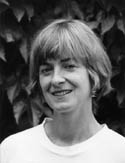 Photo credit:
David Darby
Jan Horner was born in Galt (now Cambridge), Ontario. She works in Winnipeg as a professional librarian. Her most recent book is MamaDada (Turnstone, 2008).
Poems
Her previous books are Recent Mistakes (Turnstone) which won the McNally-Robinson Book of the Year Award in 1988, and Elizabeth Goes West (Turnstone, 1998).
Jan Horner's works copyright © to the author.