Afua Cooper : Biography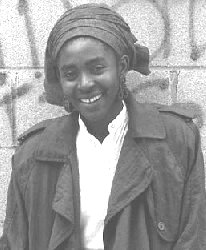 Photo credit: J.L. Hodgins
Afua Cooper, one of Canada's most versatile poets, is of Afro-Caribbean origin. Hers is an oracular voice. She comes in the tradition of the shamaness, the warner, the four-eye woman chanting flaming words. This poet incorporates African riddims and the musical vibes of the Black diaspora in her poetry which has a strong sense of history and place, underscored by a feminist sensibility. She has published four books of poems including Memories Have Tongue, one of the finalists in the 1992 Casa de las Americas literary award. Her poems have been included in numerous anthologies worldwide, and have also been recorded on cassettes and CD's.
Afua has read at universities, schools, libraries, churches, community centres, and daycare centres, and performed at music and poetry festivals nationally and internationally. She also read in the Harbourfront Reading Series. Afua is now working on a manuscript of poetry 'Oracles' and a CD 'In Motion.'
Poems
In addition to her literary work, Afua has completed a doctoral thesis in Canadian history at the University of Toronto. Her dissertation is a biographical study of Henry Bibb, a 19th century African American abolitionist who lived and worked in Ontario. She is the co-author of We're Rooted Here and They Can't Pull Us Up: Essays in African Canadian Women's History University of Toronto Press, 1994, which won the prestigious Joseph Brant award for history. Her scholarly endeavours have made a vast contribution to gender studies in African North American history and historiography. Afua lives in Toronto with her family, and teaches sociology at Ryerson University.
Afua Cooper's works copyright © to the author.