Roo Borson : Biography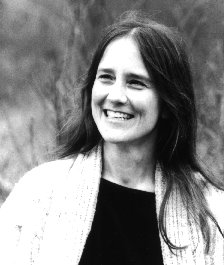 Photo credit: Sue Schenk
Roo Borson, born 20 January 1952. B.A. from Goddard College (1973), M.F.A. from the University of British Columbia (1977). Writer in Residence at the University of Western Ontario 1987-88, and at Concordia University 1993.
She has given readings across Canada, in the United States and in Australia, and is represented in a wide array of anthologies, including The New Oxford Book of Canadian Verse, the Norton Introduction to Poetry, the Norton Introduction to Literature, and The Morningside Papers. Currently lives in Toronto with poet Kim Maltman, and with Kim Maltman and Andy Patton is a member of the collaborative performance poetry ensemble Pain Not Bread.
Roo Borson has received many awards for her work, including the Governor General's Literary Award, 2004, and the Griffin Poetry Prize, 2005 for Short Journey Upriver Toward Oishida.


Roo Borson's works copyright © to the author.