Elizabeth Zetlin : Biography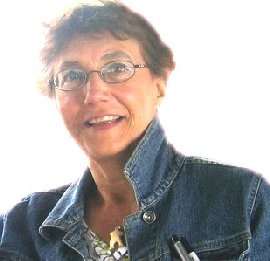 Elizabeth (Liz) Zetlin is a visual artist, filmmaker and award winning poet. Best known as a "nature poet with a twist," Liz plants garlic to form words of prayer; inscribes words on ornamental gourds as catalysts for poems; grows punctuation marks in her hay field and writes odes to punctuation marks.
"Her poetry celebrates the human community, at once passionate and compassionate, a delight for eyes, ears and sensory appetite," says Olive Senior, winner of the Commonwealth Writers Prize.
Poems
Liz's publications include Addictions of a Poet Laureate (Always Press, 2008), The Thing With Feathers (BuschekBooks, 2004), Taking Root (Seraphim Editions, 2001), Said the River (Penumbra Press, 1995); Connections (Always Press, 1994), and Ghost of Glenelg (Always Press, 1995), all collaborations with visual artists.
Her poetry videos, The Limestone Ghazals, were exhibited in Canada and Ireland as part of the Limestone Barrens Project Her docu-poem Nightwalk: Boreal Poetry Garden was screened at the St. John's International Women's Film Festival.
As Owen Sound's first poet laureate (2007-2008), Liz has established Poet of the Month profiles, initiated the Poet Laureate Map of Canada project, organized many events, emceed poetry house parties, and helped Owen Sound celebrate its 150th anniversary.
Liz was born in Norfolk, Virginia and immigrated to Canada in 1969. After working in Toronto as a waitress, community organizer and commodity futures broker, poetry appeared in her late forties, when she found herself writing in every room of the house.
Retired twice, first from the Toronto Public Library and then the Tom Thomson Art Gallery, Liz now devotes most of her time to promoting and writing poetry. As part of the National Random Acts of Poetry Week, she's traveled thousands of kilometers, done hundreds of readings and given away boxes of poetry books to people all over Grey/Bruce.
Her chapbook The Gourd Poems received the Canadian Poetry Association's Shaunt Basmajian Award. Her poem "Holy Days" received a Stephen Leacock award.
Liz is also a teacher, workshop leader, editor, arts advocate and co-artistic director of the Words Aloud Spoken Word & Storytelling Festival, which produces the annual Words Aloud Spoken Word Festival in Durham.
She is co-producing the Words Aloud documentary project, created from footage of the 2007 Words Aloud Festival. This includes an archive of performances and interviews, as well as an educational DVD/teacher's guide and a feature documentary.
Elizabeth Zetlin's works copyright © to the author.