Jay Ruzesky : Biography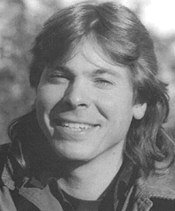 Photo credit: Lucy Bashford
Jay Ruzesky was born in Edmonton, Alberta, in 1965 but raised in Saskatoon, Winnipeg, Thunder Bay, Calgary, and Kelowna and studied at Okanagan College, the University of Victoria, the University of Windsor, and at the Banff Centre for the Arts.
His poems and stories have appeared in Canadian and American journals such as Caliban, Prism international, Canadian Literature, Event, Saturday Night, Descant, Border Crossings, and Poetry Northwest. His books include Writing on the Wall (Outlaw Editions, 1996), Blue Himalayan Poppies (Reference West, 1995), Painting The Yellow House Blue (House of Anansi, 1994), Am I Glad To See You (Thistledown, 1992), and What Was Left of James Dean (Outlaw Editions, 1992).
Poems
He is on the editorial board of the Malahat Review and teaches at Malaspina University-College (Vancouver Island University). Essays, interviews and art criticism have appeared in Brick, Poetry Canada Review, and selected gallery publications. He is currently working on a novel and a play. His book of poems, Blue Himalayan Poppies, was published in 2001 by Nightwood Editions. He lives in Victoria BC with his partner, Lucy Bashford, and his daughter, Hana.
Jay Ruzesky's works copyright © to the author.