Michael Redhill : Biography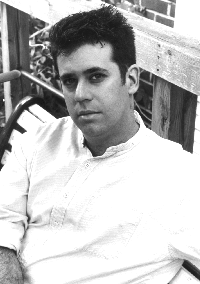 Photo credit: Bruce Meyer
Michael Redhill was born in Baltimore, Maryland in 1966, but has lived in Toronto most of his life. Educated in the United States and Canada, he took seven years to complete a three-year BA in acting, film, and finally, English. Since 1988, he has published five collections of poetry, had eight plays of varying lengths performed, and been a cultural critic and essayist.
Poems
He has worked as an editor, a ghost-writer, an anthologist, a scriptwriter for film and television, and in leaner times, as a waiter, a house-painter, and a bookseller. Currently, he is the publisher and one of the editors of Brick, a journal of things literary. His most recent books are Fidelity, a collection of short fiction, from Doubleday Canada, Martin Sloane, a novel from Doubleday Canada (nominated for the Giller Prize, 2001, The Trillium Prize, 2001, The Torgi Award, 2002, The City of Toronto Book Awards, 2002, The Books in Canada/Amazon.com Best First Novel Prize 2002, and winner of the Commonwealth Writers' Prize for Best First Book, Canada/Caribbean 2001), Light-crossing, a collection of poetry from Toronto's House of Anansi Press, and Building Jerusalem, a play, from Playwrights' Union Press, (winner of the 2001 Dora Prize for Best New Play, recipient of a Chalmers Award for Playwriting 2001, and nominated for a Governor General's Award 2001). His new play, Goodness was published by Coach House Press in 2005 and novel, Consolation came out with Doubleday Canada in the fall of 2006. He lives with his partner and two sons in Franceo.
Michael Redhill's works copyright © to the author.