Al Purdy : Writing Philosophy
Al Purdy Excerpt from : Beyond Remembering - The Collected Poems of Al Purdy.
Excerpt from : Beyond Remembering - The Collected Poems of Al Purdy
To all the many thousands of poets who have been, who are now (and those who will be), poets bad, good, or indifferent - I'm grateful. The same bug that bit those others also took a chunk out of me, infecting all of us with this habit, craft, art, or whatever it is. As a result, I've experienced tremendous feelings of euphoria when writing what I've thought was a good poem. Even at the worst of times, writing poems has been joyous and rewarding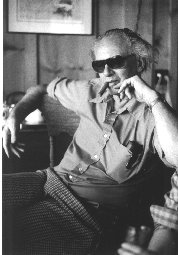 As a writer, I've always felt like an eternal amateur. Even after writing poems all my life, I've never entirely confident that the next poem will find its way into being. And then I find myself writing one, without knowing exactly how I got there.
In my lifetime, there have been many other writers whose work I've admired and absorbed. They are constantly nudging me somewhere in my unconscious mind. If I had to name two of the most important influences, D.H. Lawrence and Irving Layton would qualify. As examples, not tutors. And perhaps Milton Acorn gets in there somewhere as well; I learned from him both how to write and how not to write. (Very few people can teach you opposite things at the same time.) I think I've learned from everyone I've read, on some level, though I've digested their writing in ways that make it impossible for me to recognize it in my own work. All of us who write are indebted to everyone else who writes for our enthusiasms and craft (or sullen art).
I have enjoyed being alive and writing a great deal, being ashamed and prideful, making mistakes and stumbling on answers before I know thing questions existed. In a world so abundant with both good and bad things, in which my own unique lighted space of human consciousness burns and flickers, at this moment when the past and future converge to pinpoint now, at am age when the body says, "Slow down, you silly bugger," there are still important things in my life, and still poems I want to write.
Which is a very long sentence: it makes me thirsty for a beer or two. And it occurs to me that if I were aboard a rowboat floating in the middle of all the beer I've drunk in a lifetime, I'd never be able to see the shore.
At which point the high gods of serious things throw up their hands in horror.
Al Purdy
Ameliasburg, March 1986
Al Purdy's works copyright © to The Estate of Al Purdy.