Robert Priest : Biography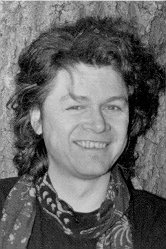 Photo credit: Michael Hollett
Robert Priest is a poet, playwright, song-writer, and novelist. He has published both children's books and books of poetry and prose for adults, including The Visible Man (1979), Sadness of Spacemen (1980), The Man Who Broke Out Of The Letter X (1984) and The Mad Hand (1988), recipient of the Milton Acorn Memorial People's Poetry Award. In 1992 Mercury Press released Scream Blue Living: New & Selected Poems. "This collection of poems beautifully captures the rainbow of emotions that comprise the human spirit... intoxicatingly lovely!" (Now Magazine). In 1998 ECW Press published Resurrection in the Cartoon, while Ekstasis Press gathered many of Priest's aphorisms in the volume The Time Release Poems.
Priest's poems and prose poems have been included in numerous anthologies and magazines both in Canada and abroad. Robert is also the author of three plays including Minibugs & Microchips which was the winner of a 1998 Chalmer's Award in the Theatre for young audiences category. Another play, The Coming, co-written with Leon Rooke was presented in 1991, by the Caravan Theatre Company. His first play--Knights of the Endless Day was produced in January 1992 at Toronto's Young People's Theatre. Of it, the Journal's Laurie Brown has said, "He uses a wonderful new poetic language that speaks honestly to both kids and parents ... very timely, hopeful and happy!" A novel, based on this play was released in 1993 by Penguin books and received a Special Choice Award from the Canadian Children's Book Centre. In 1993 The Coming was again 'staged' at the Harbourfront Theatre Festival. In 1994 a play based on Robert's poetry, entitled Sweet & Sour Angel Wings, was produced at the University of Hawaii. In true bardic tradition Robert is also a successful singer/song-writer. The ballad song "Instead of a Kiss", which he co-wrote with rock diva Alannah Myles, was a number one hit in Canada, while Priest's own most recent 'spoken word/song' CD Tongue 'n' Groove has been widely praised.
Poems
Robert's children's works include: Daysongs Nightsongs, a book/tape package for children--"This is a lovely book! A child's garden of verses for the nineties!" (Quill & Quire)--A Terrible Case of the Stars (Penguin), a collection of poetry for young readers; and The Ballad of the Blue Bonnet (Groundwood), a picture book/tape package for younger children. Of the latter, Books in Canada writer, Donna Nurse, has written: "Priest's prose mesmerizes through alliteration and rhyme, making The Ballad of the Blue Bonnett a treasure to be passed down or a keepsake to refresh memories forever."
Robert has over twenty years experience as a teacher of writing for people of all ages. In 1989 he served as Playwright-in-Residence at Toronto's Mixed Company Theatre. In 1990 he served as writer-in-residence for 4 months at the Parry Sound Public Library. In addition he has taught creative writing courses at Ryerson Polytech, Canadore College, The Bohemian Embassy, The Kingston School of Writing, Fort San, The Ganaraska Writer's Colony, The Toronto School of Writing, in primary and secondary schools and universities throughout Canada and Britain, and most recently at The Haliburton School of Fine Arts. At present he is a writer-in-electronic-residence for the WIER program run by the Writer's Development Trust. This keeps him in touch via the Internet on a daily basis with writers from across Canada and the United States.
A 'selected and new' of Robert's poems for children is due to be published in the fall of 2001. The following fall will see the publication of a 'Selected and new' of Robert's adult lyric poems. Currently Robert is at work on a screenplay, and a new play for children called Shortcut through the Maze.
Robert Priest's works copyright © to the author.