Douglas Lochhead : Biography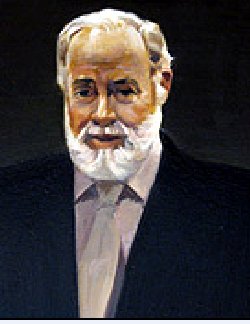 Portrait of Douglas Lochhead painted by Kenneth Lochhead © Douglas Lochhead
Douglas Lochhead, a Fellow of the Royal Society of Canada and a life-member of the League of Canadian Poets, was born in Guelph, Ontario in 1922, and served as an infantry and artillery officer in the Canadian Army during World War II. He is a graduate of McGill University and the University of Toronto. He has taught English and been a member of the library staffs of universities in Canada, the United States, and Scotland.
In 1975, Lochhead became the Davidson Professor of Canadian Studies at Mount Allison University, and has lived in Sackville, New Brunswick, since that time. From 1987 to 1990 he was the first writer-in-residence at Mount Allison University, and is now Professor Emeritus at Mount Allison, as well as a Senior Fellow and Founding Librarian of Massey College, University of Toronto.
Poems
Lochhead's High Marsh Road was a finalist for the Governor-General's Award for Poetry, and in 2005 he received the Carlo Betocchi International Poetry Prize for High Marsh Road / La Strada di Tantramar. He is also a recipient of the Alden Nowlan Award for Excellence in English-language Literary Arts, and of many honorary degrees.
Douglas Lochhead's works copyright © to the author.