John B. Lee : Biography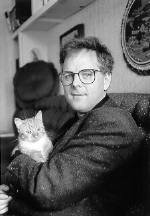 JJohn B. Lee, in 2005, was inducted as Poet Laureate of Brantford in perpetuity. The same year he received the distinction of being named Honourary Life Member of The Canadian Poetry Association.
In 2007 he was made a member of the Chancellor's Circle of the President's Club of McMaster University and he was named winner of the inaugural Black Moss Press Souwesto Award for his contribution to the ethos of writing in Southwestern Ontario. A recipient of over sixty prestigious international awards for his writing he is winner of the $10,000 CBC Literary Award for Poetry, the only two time recipient of the People's Poetry Award, and 2006 winner of the inaugural Souwesto/Orison Writing Award (University of Windsor). In 2007 he was named winner of the Winston Collins Award for Best Canadian Poem and in 2010 he received the Award of Merit for Professional Achievement presented by the University of Western Ontario and The International Poets Academy Lifetime Achievement Award for his contribution to Peace through Poetry.
Poems
He has well-over fifty books published to date and is the editor of nine anthologies including two best-selling works: That Sign of Perfection: poems and stories on the game of hockey; and Smaller Than God: words of spiritual longing. His work has appeared internationally in over 500 publications, and has been translated into French, Spanish, Korean and Chinese. He has read his work in nations all over the world including South Africa, France, Korea, Cuba, Canada and the United States. He has received letters of praise from Nelson Mandela, Desmond Tutu, Australian Poet, Les Murray, and Senator Romeo Dallaire. Called "the greatest living poet in English," by poet George Whipple, he lives with his wife Cathy in Port Dover, Ontario where he works as a full time author.
John B. Lee's works copyright © to the author.