Irving Layton : Biography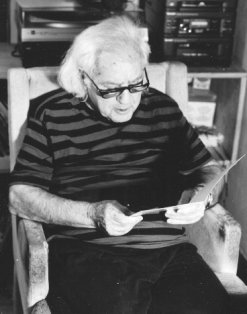 Photo credit: Dominika Dittwald
Irving Layton 12 March 1912 - January 4, 2006
On the twelfth day of March 1912, Israel Pincu Lazarovitch, or Irving Layton, was born to Jewish parents in the Romanian town of Tirgul Neamt. There was an air of magic surrounding the birth of the youngest son of a quiet and deeply religious man and his dominant and practical wife. The child, who would one day grow up to be nominated for the Nobel Prize in Literature, achieved early local fame due to his being born naturally circumcised, a sign which orthodox Jews believe is the mark of the Messiah. After Flamplatz, his mother's pet name for him (Yiddish for Exploding Flame), was told about the event surrounding his birth, he grew to believe in his own sense of destiny and immortality.
Poems
no poems are available at this time
His family immigrated to Montreal in 1913, and was forced to live in a poor St. Urbain Street neighbourhood, later made famous by Mordecai Richler's novels. "Issie" and his older brothers and sisters faced daily struggles with, among others, the Montreal French Canadians, who were uncomfortable with the growing numbers of Jewish newcomers. "Issie" gained a reputation of fearlessness in the face of the attacks, and came to be called "Nappy," short for Napoleon, which also reflected his scrappy nature. When Irving was a young boy, his Mother was the centre of his world, and her little Flamplatz held the honour of being her youngest and favourite. Between receiving an alternating onslaught of Yiddish curses and warm displays of affection, Irving was taught about the duality of human nature, indeed of life itself. In addition, Layton's father Moishe (Moses), though unlike the colourful Keine (Klara), had a strong effect on his young son. A shy and almost docile man who felt he existed to visit the synagogue and study the Talmud in his small dark bedroom, Moishe had little direct contact with his children. Yet it was his strong sense of the Divine, of the Poetic, which would make its mark on the yet unhatched poet.
At thirteen years of age, after the death of his father in 1925 and after graduating from Alexandra Elementary School, Irving became a businessman--peddling household goods to Montrealers to the delight of his mother and sisters who considered this a worthwhile career. But despite their protests, Irving abandoned his short-lived and surprisingly successful stint as a door-to-door salesman and decided to enroll in Baron Byng High School where young Irving would be changed forever. Layton recalls hearing Mr. Saunders, his tenth grade English teacher, read Tennyson's ballad "The Revenge": "I'd never heard the English language so beautifully read, so powerfully rendered, and I remember sitting quietly in my seat and listening enraptured as the sounds filled the room...."
Irving's early literary influences included the poets Tennyson, Walter Scott, Wordsworth, Byron, and Shelly; the novelists Austen and George Eliot; the essayists Bacon, Goldsmith, Johnson, Addison, and Swift; and, of course, Shakespeare and Darwin. His hunger for knowledge was equalled only by that for truth, which led Layton into exploring political and philosophical thought. Among other writers, Layton began to read Marx and Nietszche, and though he began to deem himself a socialist, in later years Layton identified with the New Democratic Party of Canada. He joined the Young People's Socialist League for a short time, and had fierce debates with budding politicians such as David Lewis and poets such as A. M. Klein. With his "radical" ideas, Layton had become a threat to the Baron Byng administrative, and he was forced to leave before graduating. With little money, Layton had few options for higher education. With this in mind, he enrolled in MacDonald College in 1934 and received a Bachelor of Science degree in Agriculture.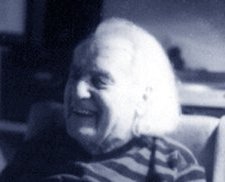 Layton was writing more and more poetry, yet it did not attract the attention his later works would. However, at MacDonald College Layton wrote a column for the student newspaper "Failte Ye Times" which is where Layton's left-wing politics and radical ideas came into public view. In fact, some of the articles aroused so much suspicion by the students at "Mac" that years later Layton was blacklisted from entering the U.S.A. for almost fifteen years. In response to the articles he was writing, Layton founded the "Social Research Club" which served as a forum for opposing political views and featured speakers such as Dr. Norman Bethune. After years of participating in Montreal's social and political debates on a regular basis at places like Horn's Cafeteria, Layton's debating skills were formidable, and it was in 1935 that Layton and a schoolmate took on the Oxford-Cambridge debating team and won. Layton's speaking skills came to be his trademark, drawing large audiences at his peak.
In the mid 1930s, Layton met and befriended Louis Dudek, another young poet from Montreal. Their friendship was strong, but they often argued about their conflicting ideas about poetry, and their later feuds were much publicized. At this time, Layton continued to work odd jobs and still had no serious aspirations of becoming a writer, although one of Layton's short stories won the McGill Daily's prize. On the advice of his brother who had been living in the U.S., Layton spent a year in New York before returning to MacDonald College to complete his undergraduate degree.
The year was 1936, and Layton met Faye Lynch, the self-sufficient daughter of a middle-class family whom he would marry in 1938. Layton graduated from MacDonald College in 1939, and Faye and Irving moved to Halifax where Layton once again worked odd jobs, including working as a Fuller Brush Man. Realizing that he had married a woman he pitied but didn't love and being disenchanted by his life in general, Layton decided, one evening, to return to Montreal. He began teaching English to recent immigrants to make ends meet, and continued for many years. Indecisive about his future and enraged by Hitler's bloodshed, Layton enlisted in the Canadian army in 1942.
While serving as a Brigade Commander in Petawawa, Layton met Betty Sutherland, an accomplished painter (and later poet), while on leave. Layton would soon after divorce Faye and marry Betty. Their union would produce Layton's first two children: Maxwell Rubin (1946) and Naomi Parker (1950). Betty's brother was John Sutherland, a poet and the editor of First Statement, a literary magazine begun by Sutherland when the more established Preview rejected his submissions. Among Preview's editors were F. R. Scott, P. K. Page, A. M. Klein, and Patrick Anderson. In 1943, Layton was given an honorable discharge from the army and returned to Montreal for good.
Layton became a close friend of John Sutherland, and, along with Louis Dudek, became an editor of First Statement Press, lending his efforts to raising money for its upkeep. The first book published by the press was Layton's Here and Now in 1945. Later that year, First Statement and Preview united as Northern Review. At this time, the younger poets--Layton, Souster, Sutherland, and others--were at odds with an aging group of poets and their supporters, such as Northrop Frye, as to the nature and meaning of poetry itself. The younger group was adamant that poetry must express social realities in order to remain relevant, and that Canadian poets must forge their own identity rather than look to England to set the tone for the next century of writing.
Despite the disdain of all things British within their circle, John Sutherland introduced Layton to the British poets Auden, Yeats, Eliot, Spender, and, one of Layton's favourite writers, D. H. Lawrence, whose openness about sexuality intrigued him. In 1944, Layton wrote his first major poem, "The Swimmer," in Child's restaurant near the Princess Theatre in Montreal. Running into Child's and grabbing the waitress's pen, Layton scribbled the poem at a frenzied pace. Layton considers this to be a pivotal moment--he finally joined the ranks of poets and saw his destiny materializing.
Yet as Layton often says, artists must align themselves with reality in order to survive. So in 1946, after receiving his M.A. in Political Science with a thesis on Harold Laski, Layton considered teaching as a career. In 1949, Layton began teaching English, History, and Political Science at the Jewish parochial high school, Herzliah. He was an energetic and influential teacher and was well liked and respected by his students, many of whom became poets, writers, and artists. Among his students were poet/songwriter Leonard Cohen and television magnate Moses Znaimer. Layton would continue to teach for the greater part of his life: as a teacher of modern English and American poetry at Sir George Williams (now Concordia) University and as a tenured professor at York University in the 1970s, as well as delivering many lectures and readings throughout Canada. Layton would pursue his Ph.D. in 1948, under the auspices of Frank Scott, though he would abandon it due to the demands of his already hectic professional life.
During this time, Layton, distancing himself from the increasingly religious Sutherland, worked with Dudek and Souster to write Cerberus, a compilation of the three poets' work, which was published by Contact Press. (Layton became one of Contact Press's first editors, holding the position from the 50s until the early 60s.) Cerberus is an important book because it was written partly in response to Cid Corman's Origin and the energy that American poetry was expressing at this time. Layton now realized that he and his key contemporaries were part of a new movement in poetry--an energy that was moving away from the post World War I Romantic poetry that had been the mainstay for so long.
During this time, Layton's popularity increased dramatically, starting in 1951 with the publication of The Black Huntsmen. Irving continued to teach at Herzliah and Sir George Williams as well as occasionally lecturing at McGill in Political Science. He also continued to teach English and Literature at the Jewish Public Library, and it was here that Layton would meet and befriend Musia Schwartz, a woman who has remained a loyal friend to him for over five decades. By the mid 50s, Layton was more prolific than at any other time in his career, and many believe that his verse was at its best during this time. He gave many readings, received numerous awards, and appeared on the CBC televised debating program Fighting Words, where Layton, the fiercest debater, was crowned "Mr. Fighting Words." Layton was becoming well known for his booming voice, engaging personality, and anti-bourgeoisie attitudes. He enjoyed smashing Canada's puritanism and creating controversy. He gained international popularity, with Italy, Germany, and South Korea expressing interest in him. His books started being translated into Spanish, Italian, Greek and Korean.

At his most prolific, Layton was publishing a book almost every year: the pace not slowing until the mid 1980s. Layton soon began to win Canada Council grants, the first of which was in 1957 for The Improved Binoculars. By the mid 50s, Layton's work had become recognized by Canada's large publishing houses, and it was in 1959 that McClelland & Stewart published Layton's A Red Carpet for the Sun, which won the Governor General's Award. It was the beginning of a long-standing and mutually rewarding relationship between Layton and McClelland & Stewart, though Layton was also published by smaller publishing companies like Mosaic Press and foreign presses such as Spain's Divers Press and Greece's Hermia Publications. It was also in 1959 that Layton won the prestigious Senior Arts Fellowship. The fellowship enabled Irving to travel abroad and write, which he would continue to do for years to come, visiting places such as Italy, Israel, and India. Layton especially liked Greece, often staying with Cohen in Hydra or Molibos during the Canadian winters. While travelling in the late 60s, Layton wrote The Whole Bloody Bird (1969), a travel book of sorts and one of Layton's personal favourites. A departure from Layton's earlier books, it is not simply a collection of poetry, but also a compilation of daily observations about life, which Layton transforms into clever aphorisms as well as poems. Layton's personality is on full display; we see the ironic humour, the scathing wit, the amorous lover, and the aging prophet.
It was in the late 50s, the height of his career, when friends introduced Layton to the younger Aviva Cantor, a spirited woman with an artistic flair and love of books, and the two quickly became inseparable, Layton later making her his third wife. Irving and Betty would soon separate on friendly terms (they would remain friends until her death in 1984). Layton had been awarded several honorary degrees and was in high demand as a speaker and workshop teacher in Canada and abroad when he would become the proud father of another son, David (1964). Over the next few years, Layton's demanding schedule became the dominating force in his life, resulting in Irving and Aviva's decision to separate.
In the 1970s, Irving would befriend Harriet Bernstein, once a student of Layton's. After a whirlwind courtship, Irving married Harriet, and in 1981, a second daughter, Samantha Clara Layton, was born. The short-lived marriage to the woman from a wealthy and powerful Toronto family caused Layton much grief. The result of this grief was The Gucci Bag, which provided Layton an outlet through which to vent his sadness and frustration over his lost love and his separation from Samantha.
However, the early 1980s would not be devoid of joy. As Layton had hoped, he was nominated for the Nobel Prize by Italy and Korea, though eventually the prize would go to Gabriel Garcia Marquez. A few years later, Layton would meet Anna (Annette) Pottier, an aspiring painter and poet, at one of Irving's readings in the 1980s, and she would write to him asking for advice about writing poetry. Throughout his life, Irving has believed that his mother's presence protects and guides him, and so when he learned that Anna was born the day of his mother's death in 1959, he took it as a sign to commit to Anna, who became his fifth and last wife. They would live in the middle-class Notre Dame de Grace neighbourhood of Montreal from 1983 until the mid 1990s when the couple separated.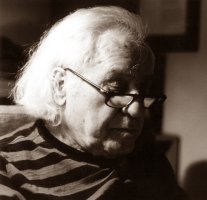 From November 2000 until he passed away in January 2006, Layton resided comfortably at Maimonides in Montreal, and was kept company by lifelong friend Musia Schwartz, two companions, and many friends and fans. Layton continued to receive regular requests from textbook publishers in Canada and the U.S. to reprint his work, establishing him as one of the most published poets in North America.
Throughout his career, Layton's "tell it like it is" style won him an equal amount of enemies and worshippers. Fighting a battle against Puritanism for most of his life, Layton's work had provided the bolt of lightening that was needed to split open the thin skin of conservatism and complacency in the poetry scene of the preceding century, allowing modern poetry to expose previously unseen richness and depth. The 1940s through to the 1960s were years of discovery, and many writers have acknowledged Layton as both Teacher and Prophet. Layton inspired many to follow his lead and tirelessly helped younger poets and writers in need. Throughout the years, Layton has bestowed his love of words, sound, and indeed his love of life itself upon audiences and readers. Leonard Cohen once said, "I taught him how to dress, he taught me how to live forever."
T. Jacobs
Toronto
May 2001
Irving Layton's works copyright © to the author.