M. Travis Lane : Biography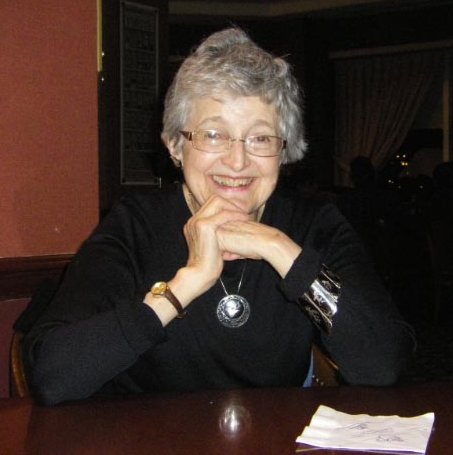 Photo credit: C.A. Travis
MTravis Lane, B.A., honours, Phi Beta Kappa, Vassar, and M.A. and PhD. Cornell, Canadian citzen by choice, came, with her husband Lauriat, to Fredericton, New Brunswick in 1960. Her PhD. thesis, "Agnosticism as Technique in the Poetry of Robert Frost," was completed in 1967. She has been an Honorary Research Associate with the English department at U.N.B. since 1967. The Lanes have two children, Hannah, and Lauriat III.
Professional career: editorial board of Vassar Review, at Cornell taught freshman English, marked for Vladimir Nabokov, acted as section leader for M. H. Abrams, and has taught, at U.N.B., English 2000, Modern American Poetry 3710. and West Indian writers 6875. She has published numerous reviews and essays, on Canadian, West Indian, and European poets, and has given papers on the long poem at UBC, York, and at the Maritime Writers' Workshop.
Poems
Her poem "The Apollonian Whale" was set to music by Humphrey Searle in 1980, and the poems "This Far," "Owl," were set to music by Brenda Muller, who also, with Ardeleana, set to music and performed, on several occasions, Lane's long poem "The Witch of the Inner Wood" from Reckonings.
Has over the years read at numerous locations and events all over Canada, has given papers at workshops and meetings, and has written more than a hundred reviews and review essays, mostly but not entirely for Fiddlehead Magazine, as well as essays, entries in DLB and Oxford Companion, and introductions on the works of P. K. Page, Kristjana Gunnars, A. J. Bailey, Robert Gibbs, Gwladys Downes, and Phylllis Gotlieb. See also her essay in Approaches to Poetry, the pre-poem moment, ed. Shane Neilson, 2009. Has been outside reader for several theses, most recently two creative writing theses and a PhD thesis on Malawian women writers.
Poetry prizes won by Lane include the Mary Harding Baylor Prize, 1952, Northern Light 1975, Pat Lowther Memorial 1980, ARC 1982, Fiddlehead 1991, New Brunswick Writer`s Federation 1994, Amethyst Review 1997, Atlantic Poetry Prize 2001, The Alden Nowlan Prize for Literary Excellence 2003, and the Bliss Carman Prize 2006. She is included in The Dictionary of Literary Biography: Canadian Writers since 1960, edited by W. H. New, in The Oxford Companion to Canadian Literature, The Feminist Companion to Literature in English, and in the online New Brunswick Literary Archives.
Her publications include: An Inch or So of Garden, Poems 1968-1970, Homecomings, Divinations and Shorter Poems, Reckonings, Solid Things, Temporary Shelter, Keeping Afloat, Touch Earth, The Crisp Day Closing on my Hand (Selected Poems), The All-Nighter's Radio, The Book of Widows, Ash Steps.
M. Travis Lane's works copyright © to the author.