Susan Glickman : Biography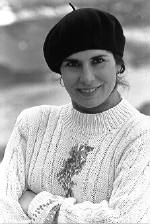 Photo credit: Toan Klein
Susan Glickman was born in 1953 to Canadians living in Baltimore. At the age of one and a half, she persuaded them to move home to Montreal, but that initial sense of being from somewhere else has never left her. That's why she finally settled in Toronto. In between, she lived in England, the USA, and Greece, and travelled as much as possible. She also picked up a few degrees along the way, including a first from Oxford and a PhD from the University of Toronto.
She has always been involved with books, working in bookstores, in publishing, and as an English Professor at the University of Toronto. Currently she teaches creative writing part-time, on-line through WIER and in person at various venues. She is married to glass artist Toan Klein, with whom she collaborated on a sculpture for the judges of the first Giller Prize. They have two small children and two smaller guinea pigs.
She won both the Gabrielle Roy prize and the Raymond Klibansky prize for The Picturesque & the Sublime: A Poetics of the Canadian Landscape (McGill-Queen's University Press, 1998); her poetry books are Complicity (1983), The Power to Move (1986), Henry Moore's Sheep and Other Poems (1990). Hide & Seek (1995) and Running in Prospect Cemetery: New and Selected Poems (2004) all from Véhicule Press of Montreal. Her first novel, The Violin Lover, was published by Goose Lane Editions in spring, 2006.
Susan Glickman's works copyright © to the author.