Lesley Choyce : Biography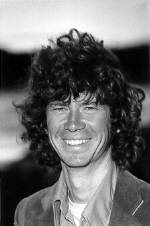 Photo credit: Larry Battle
Lesley Choyce was born in New Jersey in 1951 and moved to Canada in 1978 and became a citizen. He teaches part-time at Dalhousie University, runs Pottersfield Press and has written 40 adult and young adult books. His YA novels concern things like skateboarding, surfing, racism, environmental issues, organ transplants, and rock bands. Lesley surfs year round in the North Atlantic and is considered the father of transcendental wood-splitting. He's worked as a rehab counsellor, a freight hauler, a corn farmer, a janitor, a journalist, a lead guitarist, a newspaper boy and a well-digger. He lives in a 200 year old farm house at Lawrencetown Beach overlooking the ocean. He also hosts a nationally syndicated TV talk show in Halifax. His recent novel, The Republic of Nothing is currently being developed as a feature length movie. In 1996, Viking/Penguin published Choyce's best-selling Nova Scotia: Shaped By The Sea. Along with the Surf Poets, he has released a poetry/music album titled Long Lost Planet.

Poems
See also biographical entries in:
Canadian Who's Who. Toronto: University of Toronto Press, 1985-.
Contemporary Authors. Vol. 130. Detroit: Gale Research, 1989. 79-80.
Dictionary of International Biography. Cambridge: International Bibliographical Centre, 1999.
International Authors and Writers Who's Who. Cambridge: International Bibliographical Centre, 1996.
Something About Authors. Chicago: Gale Research, 1997.
Vesta's Who's Who of North American Poets. Cornwall, Ontario: Vesta Publications, 1987.
Who's Who in America. Chicago: Marquis Publishing, 1985.
Who's Who in Canadian Literature. Toronto: Reference Press, 1984-.
Who's Who in Entertainment. New Providence, NJ: Marquis Who's Who, 1997.
Who's Who in the World. Eight Ed. Wilmette, Ill.: Marquis Who's Who, 1993.
Lesley Choyce's works copyright © to the author.