F. R. Scott : Biography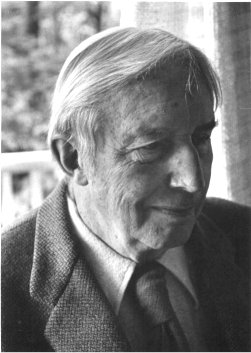 Photo credit: Lois Lord
F.R. Scott, Aug. 1st, 1899 - Jan. 31st, 1985
The son of Frederick George Scott, Francis (Frank) Reginald Scott was born [on August 1st, 1899] in the Rectory of St. Matthew's Church, Quebec City. He was educated at Bishop's College, Lennoxville, Quebec, and at Oxford University, where he held a Rhodes scholarship, receiving a B.A. (1922) and a B.Litt. (1923) for a thesis on 'The annexation of Savoy and Nice by Napoleon III, 1860'. On his return to Canada he taught briefly at Lower Canada College and in 1924 began studying law at McGill University, graduating in 1926. In 1927 he was called to the bar and in 1928 returned to McGill to teach; he was dean of law from 1961 to 1964 and retired from McGill in 1968. In 1952 he was technical-aid representative for the United Nations in Burma and from 1963 to 1971 a member of the Royal Commission on Bilingualism and Biculturalism.
Scott—who has contributed equally to Canadian law, literature, and politics in both official languages [of Canada]—was elected to the Royal Society of Canada in 1947, awarded the Lorne Pierce Medal for distinguished service to Canadian literature in 1962, and received a Molson Prize for outstanding achievements in the arts, the humanities, and the social sciences in 1967. His career as an interpreter of Quebec poetry culminated with a Canada Council Translation Prize for Poems of French Canada (1977), his work as a social philosopher with a Governor General's Award for Essays on the constitution: aspects of Canadian law and politics (1977), and his life as a poet with a Governor General's Award for The collected poems of F. R. Scott (1981). [F. R. Scott died on January 31st, 1985.]
Scott is one of the most important catalysts of modern Canadian poetry, partly because of the influence of his own poetry and partly through his personality and his association with several literary groups and 'little magazines'. As a satirist in the late twenties and early thirties, he helped battle an outworn Canadian Romanticism in order to introduce the 'new poetry'; and in landscape poems such as 'Old song,' 'Lakeshore,' and 'Laurentian Shield' he established a northern evolutionary view of Canadian nature that later influenced such poets as Al Purdy and Margaret Atwood. While achieving distinction as a poet, political activist, and leading authority on constitutional law, Scott also became a figure of extraordinary importance as a commentator on both Canadian society and Canadian literature. All these activities found expression in his poetry, and all stemmed from the nationalistic concerns of Canadian intellectuals in the twenties.
__________
Taken from the entry by Sandra Djwa in The Oxford Companion to Canadian Literature. Second edition. Eds. Eugene Benson and William Toye. Toronto: Oxford University Press, 1997. Reprinted with permission of the editor.
F. R. Scott's works copyright © to The Estate of the Author.