P.K. Page : Biography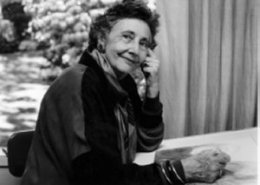 Photo credit: Sandy Reber
P. K. Page (Mrs. W.A. Irwin) was born in England and brought up on the Canadian prairies. She was out of the country for many years with her diplomat-husband, Arthur Irwin, and now lives in Victoria, British Columbia. She is the author of more than a dozen books of poetry, fiction, and non-fiction, including three books for children. Among other honours, she has won the Governor General's Award for poetry for The Metal and the Flower (1954).
P.K. Page is the author of The Sun and the Moon, (novel), 1944, pseud. Judith Cape; As Ten as Twenty, (poetry), 1946; The Metal and the Flower, (poetry), 1954; Cry Ararat!$mdash;Poems New and Selected, 1967; The Sun and the Moon and Other Fictions, 1973; Poems Selected and New, 1974; ed. To Say the Least, (anthology of short poems), 1979; Evening Dance of the Grey Flies, (poems and a short story), 1981; text for The Travelling Musicians, music by Murray Adaskin, 1984; The Glass Air, (poetry, essays and drawings), 1985; Brazilian Journal, (prose — with drawings), 1988; —Sphinx, A Poem for Two Voices, for the CBC; A Flask of Sea Water, (fairy story), 1989; The Glass Air — Poems Selected and New, 1991; The Travelling Musicians (children's book) 1991; Unless the Eye Catch Fire,(short story), 1994; The Goat that Flew (sequel to A Flask of Sea Water), 1994; Hologram - A Book of Glosas (poems), 1994; A Children's Hymn, music by Harry Somers, 1995; The Hidden Room -Collected Poems, 1997. Also poems, short stories, essays, art criticism, drawings, in various magazines and anthologies in Canada, Australia, the United States, the United Kingdom, Italy, Israel, Holland, China, etc.
Forthcoming: Alphabetical, (a poem) Fall, 1998; Compass Rose, (poems in Italian translation) Fall, 1998; a film version of Unless the Eye Catch Fire
As P.K. Irwin, painter: has had one-woman shows in Mexico and Canada, exhibited in various group shows, and is represented in the permanent collections of the National Gallery of Canada, the Art Gallery of Ontario among others.
Education: Attended schools in Winnipeg, Calgary and England; studied art under Frank Schaeffer in Brazil and Charles Seliger in N.Y.; attended the Art Students' League and Pratt Graphics in N.Y.
Career: Sales clerk and radio actress in Saint John, N.B.; filing clerk and historical researcher in Montreal, P.Q.; co-editor of Preview; regional editor for B.C. of Northern Review; script writer for the National Film Board 1946-1950. Conducted workshops at The Writers' Workshop, Toronto, 1974-1977; taught at the University of Victoria, Victoria, BC 1977-1978; member of the Advisory Arts Panel to Canada Council 1976-1979; member of the Editorial Board of Malahat Review.

P.K. Page's works copyright © to the author.