Anne Michaels : Biography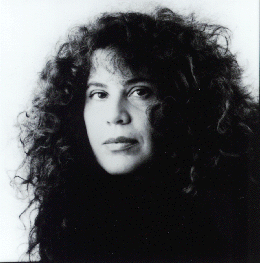 Photo credit: David Laurence
Anne Michaels was born in Toronto, Canada, in 1958. She is the author of one novel Fugitive Pieces, which explores the possibility of love and faith alter the Holocaust, with language marked by power, elegance, and integrity. Ms. Michaels, who has also composed musical scores for the theater, has said "when you put a tremendous amount of love into your work, as in any relationship, you can't know--you can only hope—that what you're offering will in some way be received. You shape your love to artistic demands, to the rigors of your genre. But still, it's a labor of love, and it's the nature of love that you must give it freely."
Anne Michaels's two collections of poetry are The Weight of Oranges (1986), which won the Commonwealth Prize for the Americas, and Miner's Pond (199 l), winner of the Canadian Authors Association Award and shortlisted for the Governor General's Award and the Trillium Award. Both collections have recently been released in one paperback volume entitled The Weight of Organges/Miner's Pond, published by McClelland & Stewart. With her first novel, Fugitive Pieces, Anne Michaels was shortlisted for the Giller Prize and the Canadian Booksellers Association Author of the Year Award, and won the Trillium Prize, the Chapters/Books in Canada First Novel Award, The Beatrice and Martin Fischer Award (the main prize in the Jewish Book Awards), and England's prestigious Orange Prize. Rights to the novel were sold to over 19 countries. And her novel, Fugitive Pieces, was made into a motion picture in 2007. Anne Michaels lives in Toronto.
In 2007, she published a book of poems, Skin Divers. Her latest novel is The Winter Vault, published by McClelland & Stewart in 2009.
Anne Michaels's works copyright © to the author.