John Bruce : Biography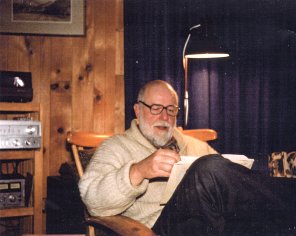 John Bruce was born in Hamilton, Ontario, on September 7, 1922, and received his primary and secondary education there. In 1940 he joined the Royal Canadian Navy as an Ordinary Seaman, but was recommended for an Officers Training Course in Halifax and upon graduation as a lieutenant spent most of the remainder of the war years on escort duty in the North Atlantic. At the war's end he attended the University of Western Ontario, completing a B.A. and an M.A. in philosophy. In 1950-52 he studied for a PhD in philosophy at the University of London, England. He returned to Canada in September, 1952, to take up a teaching position in the Philosophy Department at the University of Western Ontario. In 1958, upon the completion of his thesis, he was awarded a PhD from the University of London. He taught philosophy at the University of Western Ontario until 1964, when he received an award for post-graduate studies from the Nuffield Foundation in London, England, and was granted a sabbatical leave. On his return to Canada in 1965 he was asked to establish and chair the Philosophy Department at the newly founded University of Guelph. He served as Chairman for 6 years, and continued as a member of the department until his retirement in 1985. He particularly enjoyed teaching courses on aesthetics, on Plato and Spinoza, and on film. Through the years John Bruce wrote short lyric poems and some fiction, publishing in such journals as Fiddlehead and Canadian Forum.
Poems
In 1974 he published a novel called Breathing Space. He was also very interested in visual arts. He began sketching in ink nd painting in water colours in the 1950's, and after retirement he produced a significant number of accomplished landscapes. Shortly before his death two showings of his work were held, one at the University of Guelph, the other at the Durham Art Gallery (a gallery he had helped to establish some years before). In his later years he also found time to develop another skill which had interested him for some time, that of stonemason. As a friend wrote, "John was a builder and collector of all manner of stone, from mermaid's tears to boulders to grave-markers to Greek pillars. He moulded it, captured it and assembled it on his country property in whimsical garden walls, a spectacular pentagonal two-story secular abbey, and a French-inspired pigeonnier on stone stilts." (Barbara Maclean in "Lives Lived," Globe and Mail, 14/7/00).
Even before retirement he and his wife Vida had moved to a country house a few miles from Durham, Ontario. Friends who were interested in art were drawn there by the opportunity to contribute to the ornamentation of his work in stone. It was there that he died on April 16, 2000.

— Vida Bruce and Hugh MacCallum
John Bruce's works copyright © to the author.