Margaret Avison : Biography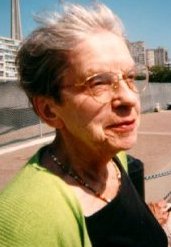 Photo credit: Joan Eichner
Margaret Avison: 1918-2007
b. 1918 in Galt, Ontario. Infant and childhood years in Regina and Calgary (Sask. and Alta.). Educated in Ontario (University of Toronto, 1936-40; M.A. 1963-5). Various daytime jobs, 1940-67, twice interrupted (8 months in Chicago on a Guggenheim Scholarship; two years' teaching at Scarborough College, University of Toronto: 1967-8). Conversion to Christian faith in early 1963. Late '63 till '85, family responsibilities. Worker in Evangel Hall '68-'73. For eight months ('73-'74) at the University of Western Ontario as Writer-in-Residence. Jobs '74-'78. Secretary, Mustard Seed Mission until retirement, '78-'86.
Poems
Avison has won several leading awards; two of her books have won the Governor General's Award, and her book, Concrete and Wild Carrot, won the 2003 Griffin Poetry Prize. One of Canada's foremost critics has described her as "probably the most important English-Canadian poet."
Margaret Avison died August 2007 in Toronto. "Many critics compare her work to the great metaphysical poets of the 17th century." (Friday, August 10, 2007 CBC Arts)
Margaret Avison's works copyright © to the author.