Marianne Bluger 1945-2005 : Biography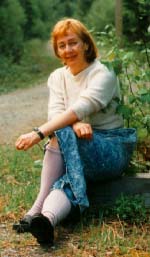 Photo credit: Larry Neily
Marianne Bluger, Aug. 28, 1945 - Oct. 29, 2005.
Marianne was born in Ottawa (1945), and spent her childhood in various small Ontario towns where her father, a Holocaust survivor, found work teaching school. She graduated with distinction from McGill where she studied pre-medical subjects and philosophy as well as taking poetry courses with Louis Dudek. She later dropped out of medical school to marry a Zen Master who was, at the time, a refugee. With him she had two children whom she raised as a single parent.
The poet was, for twenty-five years, administrator of the Canadian Writers' Foundation. She co-founded Christians Against Apartheid which operated for many years to exert pressure in Canada and abroad to end Apartheid. She also co-founded the Tabitha Foundation, a charity working effectively now to bring healing and help to the people of Cambodia.
Poems
Bluger has written eight books of poetry. She lives in Ottawa with her husband of eleven years, Larry Neily. She has just finished Leafsmoke (Collected Haiku 1975-2000) and is working on a collection of lyrics, Nude with Scar and Other Portraits.
Marianne died peacefully at home at 11:05 AM on Oct. 29, 2005, after a long and courageous fight with cancer. Nude with Scar was published postumously by Penumbra Press in 2006.
Marianne Bluger's works copyright © to The Estate of Marianne Bluger.