Joe Blades : Biography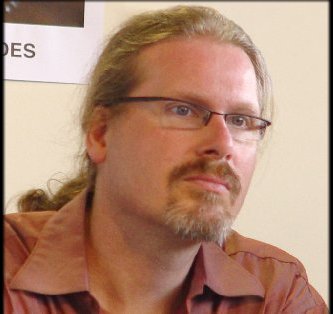 Joe Blades has been giving readings and publishing his poetry for over a quarter century. He is a writer, visual artist, and publisher-president of the independent, literary publishing house Broken Jaw Press Inc. founded by him in 1984, plus he is on the editorial board of ellipse magazine.
Blades was born in Halifax, NS, Canada. A graduate of the Nova Scotia College of Art and Design (BFA, 1988), he is also an alumni of the Banff Centre for the Arts Writing Program, Maritime Writers Workshop, Sage Hill Experience, and the Simon Fraser University Book Publishing Immersion Workshop, and currently is a MEd candidate at the University of New Brunswick.
Poems
Based in Fredericton, NB since 1990, he has also lived in Elmsdale, Dartmouth, and Port Hawksbury, NS; Toronto; Montreal; Banff, AB; New York, NY; and Senta, Serbia. On the road about three months every year, Blades gives poetry readings, lectures, and workshops across Canada as well as in the eastern USA, Scotland and Central Europe.
Blades exhibits bookworks, photographs, and objet d'art primarily in Canada and Europe. From 1995 to 2010, he has been a community radio producer-host at CHSR 97.9 FM with the award-winning Ashes, Paper & Beans: Frederickton's Writing & Arts program. Blades curated Videopoems: a screening for the Tidal Wave Film Festival (2003), and is the editor of ten books and chapbooks including UGLY: an instant spoken work chapbook anthology (Broken Jaw Press, 2007).
His poetry and art has appeared in over 50 trade and chapbook anthologies, and in numerous periodicals. Blades has authored 30 poetry chapbooks and limited editon artist books. His seven full-length poetry books are Cover Makes a Set (SpareTime Editions, 1990), River Suite (Insomniac Press, 1998), Open Road West (Broken Jaw Press, 2000, 2001), and Casemate Poems (Widows & Orphans, 2004), from the book that doesn't close (Broken Jaw Press, 2008), Prison Songs and Storefront Poetry (Ekstasis Editions, 2010), and Casemate Poems (Collected) (Chaudiere Books, 2011). Serbian translations of River Suite (Rečna Svita) and Casemate Poems (Pesme iz kazamata) were published in 2005 and several other book translations into Serbian and Spanish are in the works.
Latest update: 15 April 2011
Joe Blades' works copyright © to the author.