John Newlove : Biography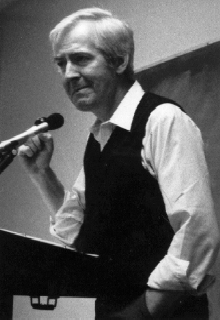 Photo credit: C.J. Sweet
John Newlove, June 13, 1938 - December 23, 2003
Born in Regina in 1938, John Newlove was raised in various small Saskatchewan towns, mainly Kamsack. He attended the University of Saskatoon for one year before embarking on an extensive tour around Canada. Prior to this he had worked briefly as a high school teacher in Birtle, Manitoba, as a social worker in Yorkton, Saskatchewan, in radio in Weyburn and Regina, and in various labouring jobs in British Columbia and Saskatchewan. Between 1970 and 1974 he occupied the position of editor at McClelland and Stewart in Toronto and writer-in-residence at various universities including Loyola College Montreal and the University of Toronto. Newlove also taught for a year at David Thompson University Centre, B.C. in 1982. After 1986 he worked for the federal government in Ottawa.
He won the Governor General's award for poetry in 1972, the Saskatchewan Writers' Guild Founders Award in 1984, and the Literary Press Group Award in 1986. His poetry has been published in journals, magazines and literary anthologies in Canada and the United States and in several countries abroad. Newlove's poetry was most popular in the 1960's and 1970's when he and Eli Mandel were considered to be among the dominant voices of Canadian prairie poetry. Newlove enjoys reading more than writing. He is a member of The Asia Institute, The Champlain Society, The Hakluyt Society.
John Newlove died suddenly in Ottawa on December 23, 2003. He was 65.
CBC obituary JOHN NEWLOVE
Saskatchewan-born poet John Newlove, who is often said to have helped put the Prairie province on the literary map, died suddenly in Ottawa on Dec. 23. He was 65. Born in Regina on June 13, 1938 and raised in Kamsack, Sask., Newlove first gained prominence for his poetry in the late 1960s. Fellow poet Paul Wilson says that Newlove was one of the first to write about Saskatchewan, and despite leaving his home province early in his career, its influence never left his writing, which often included images of and references to the Canadian Prairies. In addition to his poetry, Newlove's resumé reflected his travels across Canada. He was a high school teacher in Birtle, Man., a social worker in Yorkton, Sask., worked in radio in Weyburn, Sask. and Regina, was a labourer in B.C., an editor at McClelland and Stewart in Toronto and, in Ottawa, worked for the federal government. One of the first writers-in-residence at the Regina Public Library, Newlove also occupied the post at other institutions, including the University of Toronto and Loyola College in Montreal. Newlove's collection Lies won the 1972 Governor General's Award for poetry. His other honours include awards from the Literary Press Group and the Saskatchewan Writers Guild. — CBC news services
John Newlove's works copyright © to the Estate of John Newlove.