David W. McFadden : Biography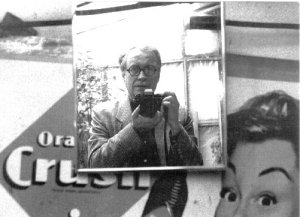 Photo credit: David W. McFadden
In adolescence I hated life and was continually on the verge of suicide, from which, however, I was restrained by the desire to know more mathematics. — Bertrand Russell,
The Conquest of Happiness
David W. McFadden began writing poetry, publishing in famous literary magazines, and corresponding with Jack Kerouac while still in high school in Hamilton, Ontario. He worked as a night proofreader at the Hamilton Spectator through the sixties, at the same period starting (and later, after four or five issues, stopping) his own literary magazine, Mountain. During this period he wrote and published several volumes of poetry and a novel, The Great Canadian Sonnet (Coach House Press, 1975, illustrated and designed by Greg Curnoe). A new edition of The Great Canadian Sonnet came out in 2001, both in book form and in electronic form. The electronic form can be seen at www.chbooks.com, one of the world's truly great literary websites.
McFadden has also served at various times on the editorial board of Coach House Press, and as a contributing editor for SwiftCurrent, Canadian Art Magazine, Quill and Quire (regular monthly columnist for two years) and Hamilton This Month (regular monthly columnist for three years). He also taught at David Thompson University Centre for three years and was a member of the Brick production team for six years.
Books currently in print include An Innocent in Newfoundland (2003), Cow Swims Lake Ontario (2003), Five Star Planet (2002), An Innocent in Scotland (1999), Great Lakes Suite (1997), An Innocent in Ireland (1995), There'll Be Another (1995), and Gypsy Guitar (1987). Other books include The Death of Greg Curnoe (1995), Anonymity Suite (1992), A Trip around Lake Ontario (1988), Canadian Sunset (1986), The Art of Darkness (1984), Animal Spirits (1983 - also with Greg Curnoe), A Pair of Baby Lambs(1983), Country of the Open Heart (1982), Three Stories and Ten Poems (1982), My Body Was Eaten by Dogs (1981), A Trip around Lake Erie (1981), A Trip around Lake Huron (1980), On the Road Again (1978), The Poet's Progress (1977), I Don't Know (1977), The Saladmaker (1977), A Knight in Dried Plums (1975), The Ova Yogas (1972), Intense Pleasure (1972), Poems Worth Knowing (1971), Letters from the Earth to the Earth (1968), The Poem Poem (1967) - and our apologies for any titles we have missed.
McFadden is currently living a quiet, reclusive life in Toronto (above the Eglinton subway station) and, as Schubert used to say about himself, he writes all day and when he finishes one piece he starts another.
McFadden is a founding member of GOSH (Gentlemen of Sensible Height), and a former member of International PEN, the Writer's Union of Canada, the League of Canadian Poets, and the Last Minute Club.
David W. McFadden's works copyright © to the author.