Penn Kemp : Biography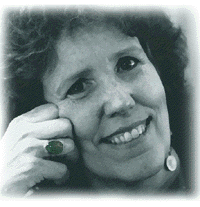 Photo credit: Christopher Blythe
Penn Kemp, Canadian poet, playwright, novelist and sound poet ("Sounding is such a hoot!"), shares the richness of her experience through her unique use of word, sound, imagery and symbolism. As a sound poet and workshop leader, Penn has performed in arts festivals around the world, giving readings and workshops, often as writer in residence.
Born in Strathroy, Ontario, and raised in London, Penn has spent much of her life in Ontario, including nine years on Toronto Island. However, an intrigue with ancient mythology has taken her on extensive journeys to Europe, North Africa, Mexico, South America and India. Ms. Kemp received an Honours degree in English Language and Literature from the University of Western Ontario (1966) and a high school teacher's certificate. She taught English for three years in Timmins and North York, till 1970. Since then, she has been an active participant in Ontario schools, performing her poetry and plays as well as giving class workshops for students and teachers. She has also read and given workshops at several hundred venues across the continent. In 1988, she was awarded an O.G.S. scholarship to complete her M.Ed. at the University of Toronto's Ontario Institute for Studies in Education. Her 1989 thesis was on creativity: "Invenio: The Source of a Biography in Mythology."
Poems
Thanks to the Toronto Arts (Interim Cultural) and Canada Councils, Penn's play, What the Ear Hears Last, was produced in May 1994 at The Gathering, at Theatre Passe Muraille. She was featured on a CBC show about sound poetry, "Sounding Off". In 1995, she toured colleges and universities in Bombay through the Indian Institute of Canadian studies. For 1988-89, Penn was writer in residence at Flesherton Library in Ontario and in 1984 she was writer in residence for Niagara Erie Writers in western New York State. In 1985, with an External Affairs grant, she performed in Britain and Germany. In 1986, she was writer in residence for the Labrador School Board and Women and Words at the University of Victoria.
Penn is currently completing a book on teaching creativity, What Springs To Mind, and novels of pilgrimage to India and Egypt. In 1995, she was writer-in-residence at SNDT Women's University in Mumbai, India. She returned as performer and guest lecturer to twelve colleges and universities in India in December 2000, giving workshop on the Visionary tradition in Canadian literature. Penn performed her dramatic homage to India, "Temporary Harmonies," with musician/composers Butterfly Effects (Wes Wraggett and Richard Warner), at The Music Gallery in Toronto. Presently, she is offering retreats and workshops on Sarasvati, the goddess of creativity. Penn has long been a student and a teacher of Spirit, creating ceremonial space for rituals and calling forth the Muse. Writing workshops based on her book about creativity, What Springs To Mind, are ongoing.
Penn's essays and poetry have recently been featured in two of the League of Canadian Poets' Living Archives series: ILLEGITIMATE POSITIONS and SIOLENCES. Other pieces were published in Arc #44 The 99-Year Century: Canada's Poets at the Millennium; Contemporary Verse 2: edge/wise: Canadian Women's Writing at Century's End; CWS Canadian Woman Studies; Descant #107, "Music & Memoir" and The Café Review's Canadian Poetry Issue, 2000. Penn's poetry is represented in four Black Moss Press anthologies. Poems commissioned for National Art Gallery paintings in Ottawa appear in Vernissage and Nature Rearranged, a travelling exhibition and catalogue, as well as a performance, Ekphrasis: Poets Musing on Art.
Pendas Productions is also preparing several fine art editions of her poetry and including CD's produced by John Magyar at PsychoSpace Sound Studios. Poetry Chapbooks hand-made and bound by Gavin Stairs include From The Lunar Plexus (2001), TIME LESS TIME (2000), SPRING SUITE (2000) and INCREMENTALLY: Sound and Concrete Poems. Gavin Stairs is also preparing a new edition of Toad Tales and The Epic of Toad and Heron: THE KISS OF TOAD (2000).
Penn's multimedia performances with jazz musician Bill Gilliam and actor Anne Anglin have been recorded by John Magyar at PsychoSpace Sound Studios. Her CD-ROM has been performed live at various galleries, such as Macdonald Steward Art Centre (Guelph, Ontario) and the Macintosh gallery (University of Western Ontario, London, Ontario).
A prolific artist, Penn has to date published 20 books and had 6 CDs and 4 plays produced. As performer and workshop leader, Penn has performed in many arts festivals, including a Symposium on Canadian Theatre at the University of Rajasthan (2000), a conference on "A Visionary Tradition: Canadian Literature and Culture at the Turn of the Millennium" (University of Guelph 1999), the International Sound Poetry Festival (NYC), and Findhorn Arts Festival (Scotland).
Since 1985, Penn has lived in Toronto's Beach. However, an intrigue with ancient mythology has taken her on extensive journeys through North America, Europe, North Africa, Mexico, South America and India, often as writer-in-residence. These travels have inspired several of her books. Penn has recently returned from a Canada Council reading tour to India, where she performed and gave workshops in 15 colleges and universities. Her poetry has been translated into many Indian languages.
Penn is a celebrated sound poet who will tour Canada in April with her new CD, FROM THE LUNAR PLEXUS: A SOUND OPERA. Her creative vision expands the traditional experience of writing into an inter-active, virtual & live presentation that delights & amazes in its variety of sound & visual patterns. Playwright, poet & performer, Penn Kemp is once again in the forefront using new technology to engage her audience. She has released Canada's first poetry CD-ROM, ON OUR OWN SPOKE, "a delight for the ear and to the eye."
Penn Kemp's works copyright © to the author.