Lionel Kearns : Biography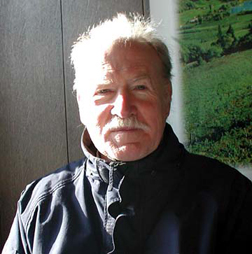 Photo credit: Gerri Sinclair
Lionel Kearns was born in Nelson, British Columbia, in 1937, the son of C.F.Kearns, aviator, outdoorsman, and writer of adventure stories, and Dorothy Welch, singer, mother and homemaker. During the second world war the family lived in Fort McLeod, Alberta, where Flight Lieutenant C.F.Kearns was a flying instructor in the RCAF Commonwealth Air Training Programme. After the war they returned to the Kootenays. For the remainder of his childhood and adolescence, Lionel was an active athlete (baseball, hockey), musician (saxophone, bagpipes), and student. He also spent time in the mountains with his father, hiking, boating, fishing and hunting. This background is reflected in his writing.
In 1955 he moved to Vancouver to work on the CPR trains, and to enrol at the University of British Columbia, where he associated with a number of young writers, including George Bowering, Frank Davey, and the Tish group. His mentors included Earle Birney, Warren Tallman, Elliott Gose, Ron Baker and Dorothy Somerset.
In 1964 Kearns moved to England to study Structural Linguistics at the School of Oriental and African Studies, London University. After a year of research on the West Indian island of Trinidad, he retuned to Vancouver to join the English Department at the recently opened Simon Fraser University, where he taught until 1986, taking a year's leave in 1981-2 to be the Writer-in-Residence at Concordia University in Montreal. He was also the original Writer-in-Electronic-Residence (1988) in the Wired Writers (WIER) project in Canadian schools.
Since his first publication in 1959, Kearns' poems, stories, and essays have continued to appear in magazines and anthologies, both Canadian and international. His work ranges from traditional page-bound pieces to more experimental and dynamic screen-based forms.
Kearns continues to write and to develop his art in Vancouver, where he lives with his wife, the flamboyant and accomplished Gerri Sinclair. He can still sometimes be seen sipping a decaf in a sidewalk cafe along the Drive, playing hockey with the old guys or with his sons in a local arena, or examining the fallen chestnuts with his daughter and grandchildren in Grandview Park, near his home.
Lionel Kearns's works copyright © to the author.