Adeena Karasick : Biography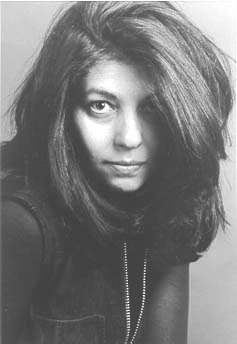 Photo credit: Blaine Speigel
Adeena Karasick, born in Winnipeg, of Russian Jewish heritage, is a poet / cultural theorist and video and performance artist; as well as the award-winning author of five books of poetry and poetic theory, The House That Hijack Built (Talonbooks, 2004), The Arugula Fugues (Zasterle Press, 2001), Dyssemia Sleaze (Talonbooks, 2000), Genrecide (Talonbooks, 1996), Mêmewars (Talonbooks, 1994), and The Empress Has No Closure (Talonbooks, 1992).
Dedicated to the interplay of conflictual dialects, aesthetics, textures that impact on the construction of feminist and cultural identity, her articles, reviews and dialogues on contemporary poetry, poetics and cultural/semiotic theory have been published worldwide.
Poems
Karsick's writing has been described as "electricity in language," "an impressive deconstruction of language and meaning which is "exuberant in [its] cross-fertilization of punning and knowing, theatre and theory" and "inserts itself amongst the corpus of texts that are changing, and being changed by, contemporary pedagogies". Adeena has performed across Canada, the U.S., Europe, S.E. Asia and Africa, and has presented lectures on contemporary poetry, poetics and cultural/semiotic theory at conferences, festivals and telepoetic colloquia worldwide Her debut video, Alphabet City won the 1999 Edgewise Electrolit Videopoem Festival's People's Choice Award. Adeena writes and teaches Poetry and Literary Theory at St. John's University, and lives in New York City.
Adeena Karasick's works copyright © to the author.