Peter Christensen : Biography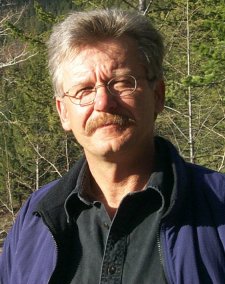 Photo credit: Yvonne Christensen
Peter began his writing career at the University of Lethbridge where he graduated in Creative Writing. Shortly after graduation he published his first book Hail Storm (1977) with Thistledown Press of Saskatchewan. He later published three more books with Thistledown Press: Rig Talk (1981), To Die Ascending (1988) and Winter Range (2001).
Hawk Press of New Mexico included his work in two collections: Sierra Sacrament and Stalking Place: Poems Across Borders. Hawk Press also published a chapbook titled, I Came Upon a Bear. Peter co-edited, with Lorne Daniel, the popular poetry anthology series, Ride Off Any Horizon 1 and 2 (NeWest Press, Edmonton).
Christensen was one of a few Canadians selected for John Garmon's Ninety Poets of the Nineties: An Anthology of American and Canadian Poetry (Florida: Seminole Press, 1998).
Peter's work has been published in many anthologies, writing journals and literary magazines. He has given readings of his work across Canada, the American west and Texas.
The Douglas College Review Event magazine published his essay "Sky Pilot," which was runner-up in Event's 1997 Creative Non-Fiction contest.
Pamela Banting's new anthology
Fresh Tracks: Writing the Western Landscape
(Polestar Book Publishers, 1998) featured the essay, "Canyon Shadows: 'Stones': Exploring the Architecture of the Spirit of Place, Being, and Time." This essay reviews the opera, "Canyon Shadows: Stones Humans Animals" produced by composer Robert Rosen and Kokorro Dance. Peter was commissioned to create the libretto for this performance piece that premiered at the Banff Centre in Banff, Alberta, and was subsequently performed at the Festival of the Sound at Perry Sound on Georgian Bay, Ontario, and at Signal Hill in St. John's Newfoundland during the International Sound Festival.
Christensen's poetry has received national critical acclaim.
George Woodcock, writing in B. C. BookWorld said Christensen's poems "are serene exercises in imagism. Extraordinary power of evoking the western mountains."
Ron Hatch wrote, "The sensuous physicality takes us up both literally to the heights of human experience."
Peter's work is accessible, thought provoking, passionate, and open. His work has been characterized as personal and documentary poetry, and he often draws on his experiences and adventures in Western Canada's wilderness.
"Christensen's work partakes of Nature's bold innocence.... Knows truth, vows to tell it well and ably. And does." (P. Vickery)
As a professional writer and communications consultant Peter has worked with many organizations to assist them in clearly articulating issues and conflicts. He developed the budget and facilitation for the "Western Canadian Constitutional Conference, The Nakoda Project" held in Alberta in 1992; he organized the thought-provoking Headwaters conferences on culture, environment, and business; he worked with B. C.'s Commission on Resources and Environment (CORE) to assist the East Kootenay Land Use Planning Table by writing their report to the Commission on land use issues.
Peter worked at various times as a guide, ranch hand and Park Ranger. He lives near Radium Hot Springs in southeastern British Columbia where he writes.
Peter Christensen's works copyright © to the author.