Ron Charach : Biography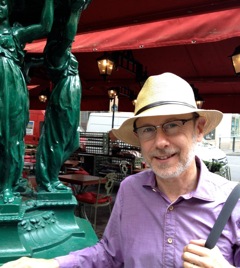 Ron Charach is a poet and practicing psychiatrist. Born in Winnipeg, he has lived in Toronto since 1980 with his wife Alice. They have two grown children.
Ron Charach's poems and essays appear widely in Canadian literary journals and medical publications. He regularly contributes essays, letters and occasional pieces to The Toronto Star, The Globe & Mail, The National Post, The Medical Post, Stitches and other medical publications.
His poems are featured in two world anthology of physician poetry published by the University of Iowa Press, Blood & Bone and Primary Care. He edited the only anthology of Canadian physician poetry, The Naked Physician. In 2003 his sixth book, Dungenessque, won the Canadian Jewish Book Award for poetry. It was followed by Elephant Street, Selected Portraits, and a ninth book, Forgetting the Holocaust, released by Frontenac House in March of 2011. His work has appeared in most Canadian literary magazines and frequently in The New England Journal of Medicine, The Lancet, and CMAJ. It is also to be found on such web-zines as Octavo and The Subway Chronicles.
Ron Charach has lectured in both Canada and the United States on creativity. For sixteen years he hosted a column on medicine and poetry in The Medical Post, where he showcased the work of other physician/poets. His books are featured in the New York University website on the medical humanities and his poems are taught in medical humanities programs across North America. He is one of the world's most widely published physician/poets and the leading psychiatrist/poet writing in English.
His poetry draws from the twin streams of literature and the healing arts.
Ron Charach's works copyright © to the author.