Earle Birney : Biography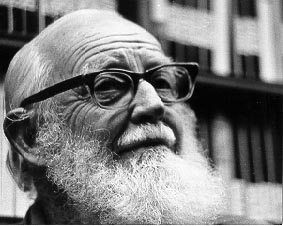 Source: Wailan Low
Earle Birney, 1904-1995:
Earle Birney was born on Friday, May 13, 1904 in Calgary when it was still in the Northwest Territories. His father, Will Birney, had ridden to the west on horseback where he met and married Martha Robertson, a daughter of a Shetland fisherman. Earle was an only child and spent what he called a "solitary and Wordsworthian childhood" on a subsistence farm near Ponoka, Alberta, learning to read from the Bible, John Bunyan's Pilgrim's Progress, and the poems of Robbie Burns. At seven he was taken to Shetland where he miraculously survived pneumonia to return to Canada to live one summer in a tent on the banks of the Bow River while his father built the family home in Banff.
Earle grew up tall, thin, red haired, and durable. He learned to climb mountains, hunt fossils, and cut trails. He expected to be a packer and guide in the Rockies but his quick mind, his parents, and chance led him first to the Creston Valley fruit ranch where he finished high school and worked as a bank clerk, and later to Vancouver, where he went to U. B. C. in 1922, enrolling in science, excelling in the Charleston, and graduating in English. By the age of 23 he had worked as a house painter and as a salesman; he had also worked as an axeman and rodman on a survey crew, and he had spent a summer writing the entire contents of the Point Grey Gazette, including the advertising.
Poems
In 1926 he went to Toronto to go to graduate school. When he left the following year, he had a master's degree and had become a Marxist Leninist. His father had died in Vancouver while Earle was away. 1927 found Earle at Berkeley, starting his PhD and living on Telegraph Hill. He did not finish before the great depression set in and he took a teaching job in the English Department at the University of Utah. In 1934 he went to London on a Royal Society fellowship. He worked his passage across the Atlantic on a tramp freighter and once he got to London, he spent his days in the British Library and his nights working for the Independent Labour Party. He went to Norway to meet with Trotsky and to Berlin where he was arrested by the Gestapo for failing to salute a Nazi parade. In 1936 he came back to Canada and finished his PhD at the University of Toronto. He brought with him Esther Bull, a fellow Marxist whom he would later marry. Their son Bill was born in 1941.
All his life, Earle had written in one fashion or another: news articles, political tracts, scholarly papers, reviews. He began to write verse. He was published in the Canadian Forum, then in other magazines, and in 1942, Ryerson Press published David and Other Poems which won him his first Governor General's medal That year he was posted overseas with the Canadian Army. At 38 and with the benefit of nothing more than a psychology course taken at Berkeley when he was a PhD student, he was put into the personnel selection division of the army. He spent the next three years in England, Belgium and Holland. Those bitter war winters produced some of his finest writing. By the time VE day arrived, Earle was back in England. He was a major and he had diptheria with its attendant paralysis. He arrived back in Canada on a hospital ship, was demobbed, and went to work in Montreal for the CBC's international service.
Before long, academia beckoned again in the form of an offer he couldn't refuse from the University of British Columbia-a full professorship and an opportunity to run a writing workshop, the first of its kind at the university and in Canada and, in 1946, he and Esther and Bill moved to the edge of the continent to live in one of the many army shacks on the UBC campus converted for professorial staff.
The next 20 years were highly productive. The energy that had gone into political activity in the 1930's was now channeled into scholarship, writing, travel, and teaching. He was a legendary teacher. He is remembered as one of those professors who made his subject come to life, and who inspired generations of students both to become writers and to become scholars and teachers.
He wrote the classic black comic novel, TURVEY, a darkly serious picaresque set in World War Two. He produced numerous books of poetry, including NOW IS TIME, STRAIT OF ANIAN, NEAR FALSE CREEK MOUTH, and THE MAMMOTH CORRIDORS, and he wrote another novel, DOWN THE LONG TABLE, set in the depression in western America. He also wrote television and stage plays. His DAMNATION OF VANCOUVER, a verse play, dealt with ecological issues long before the ecology was on the tip of the collective tongue. He lived for periods in France, in England, and in Mexico and traveled widely in Asia, South America and Australia. He wrote numerous travel pieces for magazines and in the early 1960's took Canadian poetry to audiences all over the world - not only his own, but that of the writers of his time.
In 1965, Earle left the University of British Columbia and became the first Writer in Residence at the University of Toronto. This was the first of several such residencies that he took and he found renewed pleasure in nurturing young writers. He also began to explore more diverse forms in his own work, and experimented with concrete poems, sound poems, and collaborations with musicians. The years from 1965 to his death in 1995 produced many new books, among them RAG & BONE SHOP, WHAT'S SO BIG ABOUT GREEN?, THE BEAR ON THE DELHI ROAD, THE RUGGING AND THE MOVING TIMES, BIG BIRD IN THE BUSH (short stories), COPERNICAN FIX, GHOST IN THE WHEELS and LAST MAKINGS, his last book, published after a heart attack in 1987 that left him with a disabling brain injury.
Earle spent his last twenty three years with Wailan Low, a graduate student at the University of Toronto when he met her and later a lawyer and an Ontario judge. He did not stop travelling or climbing as he got older and older and he did not stop working until he was felled by illness. The itch to write and the compulsion to re-write did not leave him, and some of his best work was written in the last 20 years of his life. His love poems, found in LAST MAKINGS and in THE COLLECTED POEMS OF EARLE BIRNEY, are among the most beautiful in the language.
Earle both climbed and was a mountain. He cast a very long shadow and he was central in shaping modern Canadian literature. Most of all, he had a gift for friendship that he liberally shared.
Wailan Low



Earle Birney's works copyright © to the Estate of Earle Birney.
Reprinted with the permission of the Estate.