Molly Peacock : Biography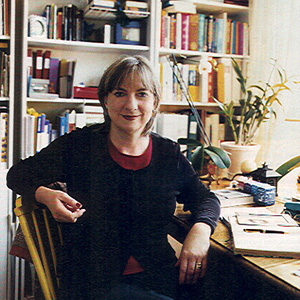 Photo credit: Marc Royce
Molly Peacock earned a reputation early in her poetry career for writing about love and sex with disarming frankness, and, surprisingly, in deftly used traditional forms. That she found joy in the sensual pleasures of life and made no secret of it went hand in hand with her formal explorations of the sonnet and the villanelle. Peacock's later work loosened her meter and rhyme and extended her subjects to war, spirituality, and family life. Her commitment to psychological truths has made her a poet readers turn to for unflinching honesty, balm for spiritual ills, and a dazzling, but subtle formal dexterity. Her latest volume of poems, Cornucopia: New and Selected Poems 1975 - 2002 (W.W. Norton and Company / Penguin Canada) displays the fruits of her work from her four earlier volumes (And Live Apart, Raw Heaven, Take Heart, and Original Love.)
Currently she is at work on The Shimmering Verge, a one-woman show in poems.
Peacock is also the author of a memoir, Paradise, Piece by Piece (Riverhead/ McClelland and Stuart, 1998), telling the story of her decision not to have children and the choices that have led to a fulfilling life as a poet and teacher, and as a sister, daughter, lover, friend, and wife. Her interest in memoir led her to edit The Private I: Essays on Privacy in a Public World (Graywolf, 2001).
She has read her work widely, from Harbourfront, Toronto, to the United States Library of Congress, as well as at many universities, galleries, and poetry centres throughout North America. Her poetry and comments on poems have been featured on CBC Sounds Like Canada, CBC This Morning, CBC Sunday Morning, CBC Arts Report, and Richardson's Roundup as well as National Public Radio WNYC (Leonard Lopate), local NPR stations, and Pacifica Radio. She conducts quarterly poetry circles for Wisconsin Public Radio's Jean Feraca Show. In Canada her television appearances include: TVO Imprint, The Dini Petty Show, Pamela Wallin, the Women's Television Network News and WTN Modern Manners, Erica Ehm on Lifetime TV, Ziggy on the Bravo Network, and TalkTV.
Peacock has been awarded a number of major fellowships including: the Danforth Foundation Fellowship, two times an Ingram Merrill Foundation Fellowship, and five times a Woodrow Wilson Foundation Fellowship. She has been awarded a fellowship from the National Endowment for the Arts and two from the New York State Council on the Arts. Her poems have appeared in The New Yorker, The Nation, The New Republic, The Paris Review, and other leading literary journals, as well as in numerous textbooks and anthologies, including The Best of the Best American Poetry (Scribners).
She has done much to make poetry accessible through her book How to Read a Poem . . . and Start a Poetry Circle (Riverhead/ McClelland and Stuart, 1999), appearances on radio and TV, the Poetry-in- Motion program on the buses and subways that she helped initiate through her work as president of the Poetry Society of America from 1989 to 1995.
Fascinated by innovation and by the literary life of the independent writer, Peacock has pioneered "poetry one-to-one," in which she uses the musical model of apprenticeship to teach on a private basis some of the next generations' most talented emerging poets. She has been Poet-in-Residence at the University of Western Ontario, Bucknell University and the University of California, Riverside. She is on the graduate faculty of a new low-residency Master of Fine Arts in Writing Program at Spalding University in Louisville, KY.
Born in Buffalo, New York, Molly Peacock earned a B.A. with honors from Harpur College and an M.A. with honors in creative writing from The Johns Hopkins University. She holds Permanent Resident status in Canada and holds U.S. citizenship. She is the former Poet-in-Residence at the American Poets' Corner at the Cathedral Church of St. John the Divine in New York City, and lives in Toronto and New York City with her husband, Professor Michael Groden.
Molly Peacock's works copyright © to the author.