Gwendolyn MacEwen : Biography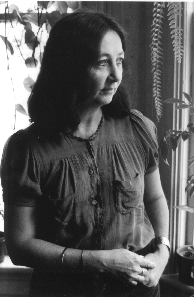 Photo credit: Bruce Meyer
Gwendolyn MacEwen was born in Toronto in 1941. Her first published poem appeared in The Canadian Forum when she was seventeen. She left school at eighteen to concentrate on her writing. Her work is included in most major Canadian anthologies.
MacEwen was Writer-in-Residence at the University of Western Ontario in 1984-85 and at the University of Toronto in 1986-87.
Poems
She died in November of 1987.
In 1995, Rosemary Sullivan wrote an award-winning biography, Shadow Maker: The Life of Gwendolyn MacEwen.
Gwendolyn MacEwen's works copyright © to the Estate of Gwendolyn MacEwen.
The information provided here is by permission of David MacKinnon, executor for The Estate of Gwendolyn MacEwen.