Don Coles : Forests of the Medieval World
Don Coles. Forests of the Medieval World. The Porcupine's Quill, 1993 ISBN 0-88984-158-6
From the Cover Notes
Forests of the Medieval World can only add to Don Coles' reputation as one of the most accomplished and important poets in Cnada. One section of the book contains the Edvard Much Poems, a sequence based on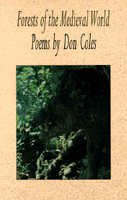 unch's paintings and on his unpublished diaries which Coles read years ago in Oslo. These intensely moving poems are "what I have learned from years of thinking about these paintings and that life".
The rest of the poems in Forests of the Medieval World are mainly love poems, poems about lovers, about a son's love of his father, about a father's love for his children. All are marked by Coles' exhilarating control of language and rhetoric. The magificent title poem, a complaint to a lover expressing an almost unbearable grief, may be the finest thing this poet has done.
Don Coles's works copyright © to the author.