Wendy Morton : Biography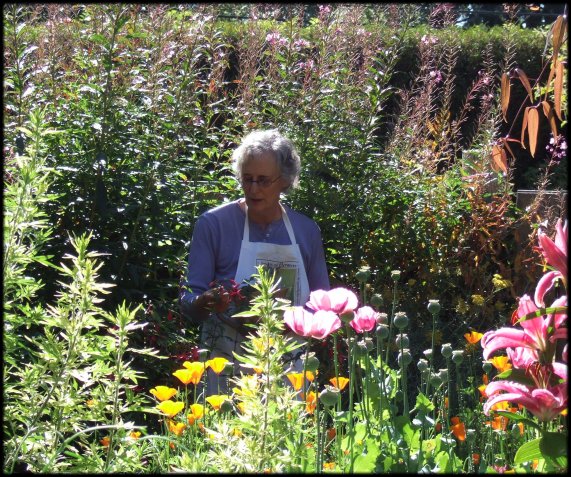 Photo credit: Rod Punnett
Wendy Morton's first book of poetry, Private Eye, was published in 2001. She knew she had to find some way to turn her poetry into currency. She had once been stopped by a cop for speeding, read him a poem and escaped a ticket. She was thus convinced of the power of poetry.
One day she called up WestJet Airlines, suggested she read poems for the passengers and write poems for them in exchange for flights. After some enthusiastic urging, they said yes, and so she became WestJet's Poet of the Skies. She has turned her poems into the currency that has provided her with a PT Cruiser from DaimlerChrylser, luxurious hotel rooms from The Fairmont Hotels, vitamins from Prairie Naturals, a digital camera from Fujifilm. She was also sponsored by Green Beaver skin care products and AbeBooks. Her poem "If I had a name like Rosie Fernanez" appears on the label of Southbrook Vinyards Cabernet Merlot as part of their Poetica series. The queen, in Alice in Wonderland, says to Alice, "Why, when I was your age, I imagined 6 impossible things before breakfast." Wendy imagined that poets all across Canada could commit "random acts of poetry" on strangers: read them a poem and give them a book.
In 2004 , 27 poets across Canada did just that with the sponsorship of abebooks, and National Random Acts of Poetry Week was born. It is a project of the Victoria READ Society. In 2005, there were 27 in Canada and 9 in England, Scotland, Ireland, and Northern Ireland committing Random Acts of Poetry. In 2006, with the sponsorship of The Canada Council for the Arts, 39 poets across Canada were involved, bringing poetry the streets of their cities, to anyone who crossed their path. They also presented poetry in ESL and Adult Literacy Classes across Canada. In 2007, 37 poets across Canada are again committing Random Acts of Poetry in their cities, with the support of the Canada Council for the Arts. In 2008, 25 poets across Canada committed Random Acts of Poetry and presented poetry in middle school classes, ESL classes and adult literacy classes. They left in those classes copies of We Can Say This, a book of poetry of middle school students, including many poems of First Nations students. This book was produced with the support of the TD Financial Group.
She has four other books of poetry. Undercover and Shadowcatcher, published by Ekstasis Editions; Gumshoe and What Were Their Dreams: Valleys of Hope and Pain. Canada's History, a book of photo/poems, published by Black Moss Press. She was an insurance investigator for 30 years.
Her memoir, 6 Impossible Things Before Breakfast was published in 2006 by emdash press. It outlines her journey from private eye to poet to WestJet's Poet of the Skies, DaimlerChrysler's Poet of the Road and how she took poetry public across Canada. Her memoir is her journey into believing the impossible, and making the impossible come true for any dreamer.
In 2009, she began working with First Nations students, training them to be poets, in order for them to turn their Elders' stories into poems. A beautiful chapbook, The Elder Project, was created. Since then, she has worked with First Nations, Metis and Inuit students and their Elders. 14 books have been created, which can be viewed here: www.theelderproject.com.
In 2010, she received the inaugural Spirit Bear Award, founded by Patrick Lane and Lorna Crozier "to recognize the significance of vital and enduring contribution to the poetry of the West Coast" and the Golden Beret award by the Calgary Spoken Work Society for "significant, lifelong contribution both to the spoken word genre and to the growth and development of the poetic community." In 2011, she received the Honorary Citizenship award from the City of Victoria in recognition of her service to the enrichment of Victoria in arts and culture. In 2012, she received the Colleen Thibadeau Outstanding Contribution Award from The League of Canadian Poets. In 2016, she was awarded the Meritorious Service Medal, which "enables the Governor General, on behalf of Her Majesty the Queen and all Canadians, to recognize outstanding accomplishments that set an example for others to follow and bring benefit to our country." This is for Random Acts of Poetry and the Elder Project.
Wendy Morton's works copyright © to the author.